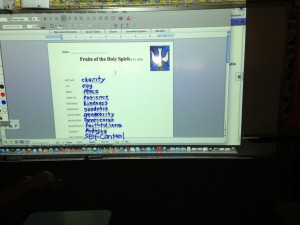 This week in Religion class the students have been exploring the Old and New Testament. The 6th grade class has been reviewing the story of Joseph and his brothers. It ties in perfectly with our history unit on Ancient Egypt.
The 7th grade is studying the amazing miracles of Jesus and the reasons for the miracles. We have also discussed the miracles that occur around us every day.
The 8th grade reflected on this Sunday's Gospel which discusses John the Baptist and the Baptism of Jesus. This Sunday is the Feast of the Baptism of Jesus. The students writing focused on the times they think God is pleased with them due to the choices they make.
All three classes have used the new projectors each day to complete religion worksheets and chapter reviews. We are having a great deal of fun with the new interactive technology!